Mark Braunias wins the 2021 Parkin Drawing Prize!
19 August, 2021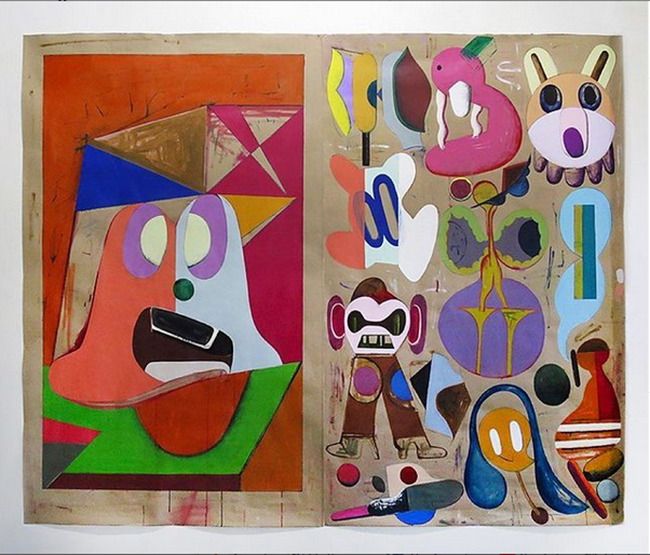 In Search of the Saccharine Underground, 2021

Congratulations, Mark, on your thrilling win of this year's Parkin Drawing Prize. The work 'In Search of the Saccharine Underground' is a colourful, large-scale diptych made from ink and acrylic on industrial builders' paper. Judge Dr Sarah Farrah described it as "fresh, spirited and uncontainable", with the artist's "intuitive and spontaneous mark-making" being "audacious, comic and compelling".

The term 'Saccharine Underground' was coined by American rock music critic Greil Marcus in the late 1960s to describe certain aspects of contemporary pop music which had an underlying 'heavy' edge but was presented with ironic superficiality. Braunias elaborates: "We're talking counter-culture.... the music sounds saccharine – kind of cheesy – but there's a profundity within the lyrical content." He relates this to his practice, where he "takes the cute but gives it a formal modernist edge. It's not just about doing cartoons and something funny; there is a seriousness behind the work."

We're very much looking forward to Mark's upcoming exhibition (of the same title as the winning Parkin work) opening here at JSG on Friday 8 October.


https://www.stuff.co.nz/entertainment/arts/125935743/mark-braunias-wins-parkin-drawing-prize-with-colourful-comic-diptych
https://parkinprize.nz/https://parkinprize.nz/Modernist-abstract-drawing-wins-2021-Parkin-Drawing-Prize